Remodeling Company in Birmingham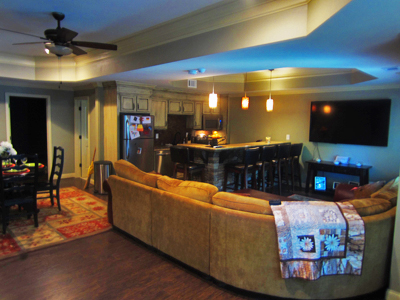 Unlock your home's potential with a residential remodeling company in Birmingham known for uncompromising quality and reasonable prices: One Call Remodel. From the basement to the attic, we have built our reputation on long-term customer satisfaction.
Home Remodeling Doesn't Have to Cost a Fortune
and We'll Prove It To You In Writing!
CALL: (205) 588-2788
Even challenging jobs are no problem for our team. With more than 20 years as a licensed general contractor and home remodeling company, we can design and build the perfect extra room or home remodel project for you and your family. You will get solid construction that is built to last and changes with your needs. We design for life, not just for right now.
A Full Service Remodeling Company
Banish that Gloomy Basement

Our basement design services will help you turn that dark, dank space into a light, bright and totally livable area. Whether you just want a simple basement finishing that you can repurpose later, or you have specific plans in mind, you can proceed with total confidence when you choose One Call Remodel as your home remodeling company in Birmingham. Create a rec room, a theater, workout space or a quiet home office.
We are well-versed in every trade required to turn it into a dry, perfectly finished part of your house. Our team will prevent moisture from seeping in, take care of plumbing and electric, finish around posts and pipes, and properly insulate all surfaces. Lighting, flooring, ceilings, walls, as well as finish carpentry will be skillfully planned and carried out to the highest professional standards.
In the hands of a professional remodeling company, basement renovation can add hundreds or thousands of square footage that will enhance your lifestyle.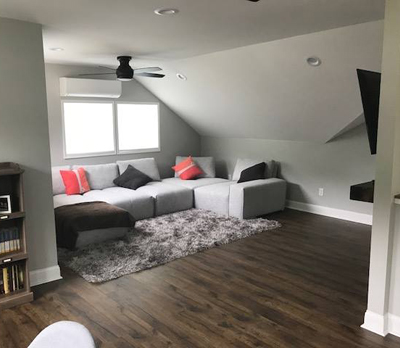 Attic Conversion
If you have warm memories of grandma's attic, you can make new ones in your own. Add a bedroom, an awe-inspiring master bath, space for weekend guests and family members, or just a quiet zone in which to hang out.
As an experienced remodeling company in Birmingham, we know that attic finishing can be a challenging job: You must consider proper climate control, insulation, floor reinforcement, and plumbing and electrical connections. You also need an attic remodeler who can make all those ceiling angles and short walls look cozy and livable, while still preserving needed storage space. You have found a contractor with the skills to create a brilliant transformation. Call now and we'll look at your space for free. We'll let you know what kind of attic remodeling will work best for you.
Home Additions Increase Property Value
Many folks consider moving into a larger house when the answer is already underfoot. Seamlessly blended home additions can include a wing, a suite or a single room. Why waste an unused portion of the yard if it can be turned into the living space you need now and in the future? An elderly parent moving in, a new addition to the family, a place to entertain – the possibilities are almost endless.
Basement remodeling to have that home office you always wanted.
Room additions make it possible to create a guest bedroom and bath.
Attic conversions are a great wake to keep all the kid stuff upstairs.
Patio Enclosures make any weather an outside day!
Whether you want to build up or out, you can count on our affordable remodeling company for high quality craftsmanship, two decades of experience, and common sense planning. We involve you in every phase of the project and keep your safety and ours at the forefront. We are fully insured for your protection.
We Handle it All
When you turn to our highly experienced team, you will get everything in writing – no hidden surprises. We will handle all permitting and inspections, keeping you informed at every stage.
Respectful of Your Home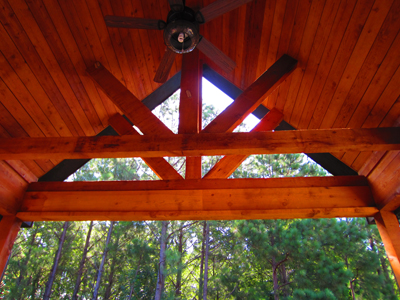 Our team will prepare you and your family for what is to come, letting you know what to expect on any given day. The owner of our local remodeling company himself will be happy to answer your questions, and our highly skilled workers will be respectful of your property and your need for privacy. You can expect a project that is finished on time and within budget, and clean-up that is thorough and professional. All you will notice is the beautiful new results.
Written Guarantee
You can be assured of the highest quality materials and detail-oriented work that is guaranteed in writing to satisfy. We understand home additions are an investment and we deliver excellent quality on your hard-earned dollar. Get a free in-home estimate and see how we can reinvent your house in ways you never thought possible.
Licensed & Insured General Contractors
We can't stress this enough; be certain you only use licensed & insured general contractors for any project you have involving residential or commercial remodeling. There are building codes that must be followed and liability insurance that must be carried to adequately protect you during renovation. Don't cut corners, ask for proof of each from your remodeler first.
We are a professional and affordable remodeling company in Birmingham and all nearby communities.