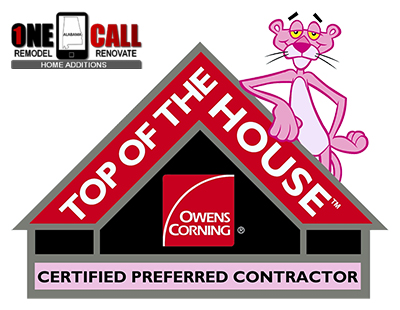 Attic Insulation is the most cost effective ways to lower heating and cooling costs and extend the life of your roof. If the old insulation in your home is thin, wet, worn down or settled, it may be time to replace it.
Replacing your old attic insulation is more affordable than you think! Call us for a free inspection and written estimate today! (205) 588-2788.
Whether you have blown-in cellulose, fiberglass batting or no insulation at all, we can quickly show you how to lower your utility bills with Owens Corning Pro-Cat loose fill attic insulation.
Attic Insulation Replacement
If your electric bills have been going up in the summer and winter, replacing your attic insulation could be the best place to start. Under insulated attics allow heated air to escape during the cold days of winter.
The opposite is true during the summer months, where hot air from a sun baked roof penetrates the inside your home that you are trying hard to keep cool. Some of the benefits of upgrading the insulation in your attic include:
Energy Efficient – Lower utility costs to heat or cool your house by keeping conditioned air under your ceiling.
Mold & Moisture Resistant – Take comfort in knowing this encapsulated blown insulation helps to keep the air in your home healthy.
Very Affordable – Replacing the old attic insulation in your home costs less than you think. We even offer financing if you need it.
Non Itchy – The insulating material itself is encapsulated, so if you touch it during storage trips to the attic, you won't be scratching like an old hound dog.
Home Insulation Contractor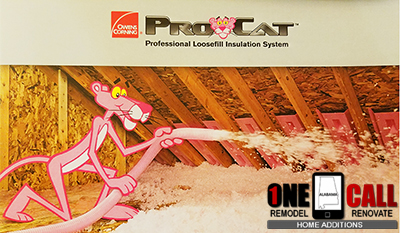 We are a Certified Preferred Contractor for installing Owens Corning Pro Cat attic insulation. This professional Loose-fill insulation system comes with a limited lifetime warranty that protects your home from loosing R-Value over time.
This blown-in attic insulation will not absorb any moisture and doesn't provide a nutrient source for dangerous fungi, mold or pests. Even better, this pink, loose-fill material is encapsulated so it won't make you itchy if you come into contact with it.
We provide attic insulation to homeowners in Birmingham, Hoover, Vestavia, Mountain Brook, Homewood, Pelham, Trussville and the surrounding areas.